We are pleased to announce that two articles have been nominated for the Best Published Papers Award 2022 by the Editorial board of Zoonoses:
SARS-CoV-2 Variants and Vaccination. Zoonoses. 2022. Vol. 2. DOI: 10.15212/ZOONOSES-2022-0001
Authors: Yang Liu, Jianying Liu, Pei-Yong Shi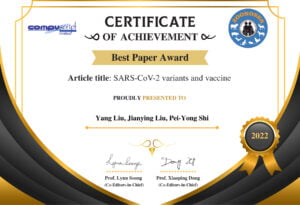 Keywords: SARS-CoV-2 variants, spike mutations, neutralization, vaccine, COVID-19
Publication Date: 08 February 2022
This paper reviews the key variants of SARS-CoV-2 and discusses their implications in viral replication, transmission, and immune evasion.
The Animal Origin of Major Human Infectious Diseases: What Can Past Epidemics Teach Us About Preventing the Next Pandemic? Zoonoses. 2021. Vol. 1. DOI: 10.15212/ZOONOSES-2021-0028
Authors: Guha Dharmarajan, Ruiyun Li, Emmanuel Chanda, Katharine R. Dean, Rodolfo Dirzo,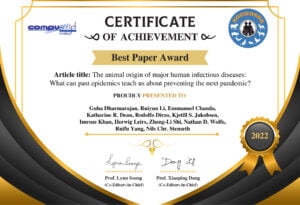 Kjetill S. Jakobsen, Imroze Khan, Herwig Leirs, Zheng-Li Shi, Nathan D. Wolfe, Ruifu Yang, Nils Chr. Stenset
Keywords: Disease ecology, emerging infectious disease, pathogen, parasite, zoonoses
Publication Date: 01 April 2022
This paper identifies the major characteristics of past epidemics of animal origin and predicts areas with high future disease emergence risk.
Congratulations to the recipients of the 2022 Best Paper Awards!