Announcing a new article publication for Zoonoses journal. In this article the authors Jun Feng, Li Zhang, Zhi-Gui Xia, Shui-Sen Zhou and Ning Xiao from National Center for International Research on Tropical Diseases, Shanghai, China and Shanghai Jiao Tong University School of Medicine, Shanghai, China discuss the strategies which have led to malaria-free certification for China in 2021.
China has achieved great success with its malaria elimination programme and has been awarded a malaria-free certification by WHO in June 2021. China's active engagement and contributions to regional malaria elimination initiatives have helped promote malaria elimination efforts in neighbouring countries where malaria remains a severe public health problem.
Building on its 2021 milestone of malaria-free certification and sustainable national efforts, China will adopt appropriate strategies and interventions to prevent the re-establishment of malaria transmission and assist highly endemic countries in their malaria control and elimination efforts by sharing China's experiences and products produced from the national malaria elimination programme.
The authors of this commentary paper highlight the achievements of, and lessons learned from, the malaria elimination programme.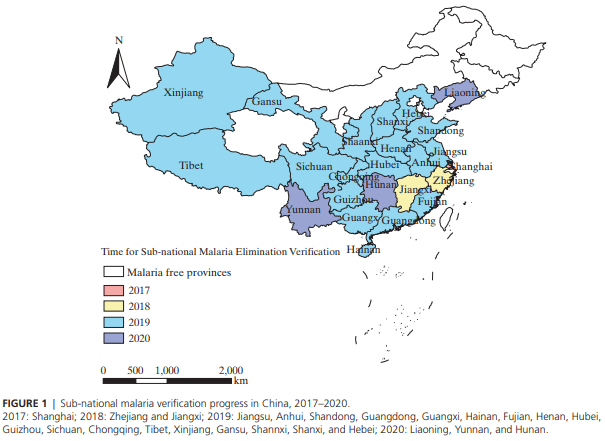 Article reference: Jun Feng, Li Zhang, Zhi-Gui Xia, Shui-Sen Zhou and Ning Xiao, Malaria-free Certification in China: Achievements and Lessons Learned from the National ,Malaria Elimination Programme. Zoonoses, 2021, https://doi.org/10.15212/ZOONOSES-2021-1002
Keywords: Malaria, Elimination, 1-3-7 approach, Control, China.
Zoonoses is fully open access journal for research scientists, physicians, veterinarians, and public health professionals working on diverse disciplinaries of zoonotic diseases.
Zoonoses is now open for submissions; articles can be submitted online at https://mc04.manuscriptcentral.com/zoonoses
Please visit https://zoonoses-journal.org/ to learn more about the journal.
Editorial Board: https://zoonoses-journal.org/index.php/editorial-board/
Zoonoses is available on ScienceOpen (https://www.scienceopen.com/search#collection/839df240-327f-47dd-b636-9b728dff9700).
Submissions may be made using ScholarOne (https://mc04.manuscriptcentral.com/zoonoses).
There are no author submission or article processing fees.
Follow Zoonoses on Twitter @ZoonosesJ; Facebook (https://www.facebook.com/Zoonoses-Journal-100462755574114 ) and LinkedIn (https://www.linkedin.com/company/zoonoses/)
 eISSN 2737-7474
ISSN 2737-7466